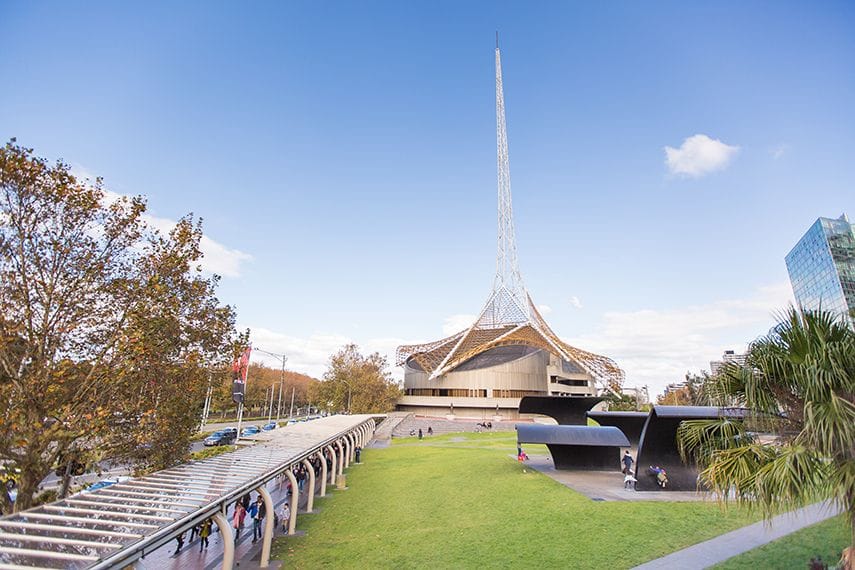 Add to Itinerary
Arts Centre Melbourne
Architect: Roy Grounds 1984
The land on which the Melbourne Arts Precinct and Arts Centre Melbourne sit has long been a place of gathering, storytelling, song, ceremony, celebration and commemoration for First Nations people. The People of the Kulin Nations have gathered on the site for thousands of years and continue to do so today. We pay our respects to their elders, past, present and emerging.
Post white settlement, Arts Centre Melbourne's site was a centre of entertainment, performing arts and nightlife, where you could marvel at daring acrobats, catch a film, or dance until dawn. During the Second World War, a group of Melburnians developed a new vision: a new art gallery and cultural centre that would give the post-war city a concert hall, theatres and galleries that it could be proud of. It was designed by noted architect Roy Grounds.
The masterplan for the complex, along with the National Gallery of Victoria, was approved in 1960 and construction began in 1973 following some delays. In 1979, the Arts Centre Building Committee appointed John Truscott – an Academy Award-winning film designer and one of Australia's most successful designers and artistic directors – to redesign Roy Grounds' planned interiors for both the Melbourne Concert Hall and Theatres Building.
The complex opened in stages, with the Melbourne Concert Hall – renamed Hamer Hall in April 2004 – opening in 1982 and the Theatres Building opening in 1984. Hamer Hall reopened in July 2012 after a two-year major redevelopment to improve the auditorium and public areas.
Arts Centre Melbourne's dramatic forecourt café and bar Protagonist opened in November 2019. Featuring ground-breaking architecture from Cumulus Studio, winners of Arts Centre Melbourne's 2018 design competition, Protagonist is defined by striking architectural mesh.
The café is enveloped by a distinctive bronze curtain of kaynemaile, a futuristic fire and UV resistant polycarbonate chainmail mesh originally developed as chainmail for The Lord of the Rings films. The recyclable polycarbonate was created by set designer Kayne Horsham who was practiced in the art of designing and creating chainmail during his work on the fantasy trilogy.
The design plays on the iconic and universally understood element of the theatre curtain as a device to signify 'open' and 'closed' and uncovering or bringing out aspects of the theatre which are hidden behind the solid walls of the State Theatre.
Protagonist won the award for Small Project Architecture at the Victorian Architecture Awards 2020.
Arts Centre Melbourne is the proud custodian of the Australian Performing Arts Collection, which is dedicated to the collection, preservation and interpretation of Australia's circus, dance, music, opera and theatre heritage.
Photos: Courtesy of Arts Centre Melbourne
WATCH
NOW
Watch Arts Centre Melbourne's team from the Australian Performing Arts Collection work together to acquire, document, preserve and make accessible over 500 objects including multi-part costumes, accessories, designs and ephemera from the Dame Joan Sutherland Collection, which was donated by Opera Australia in 2018.
DISCOVER
MORE
Explore Arts Centre Melbourne's Together With You project to see new videos, stories and much much more.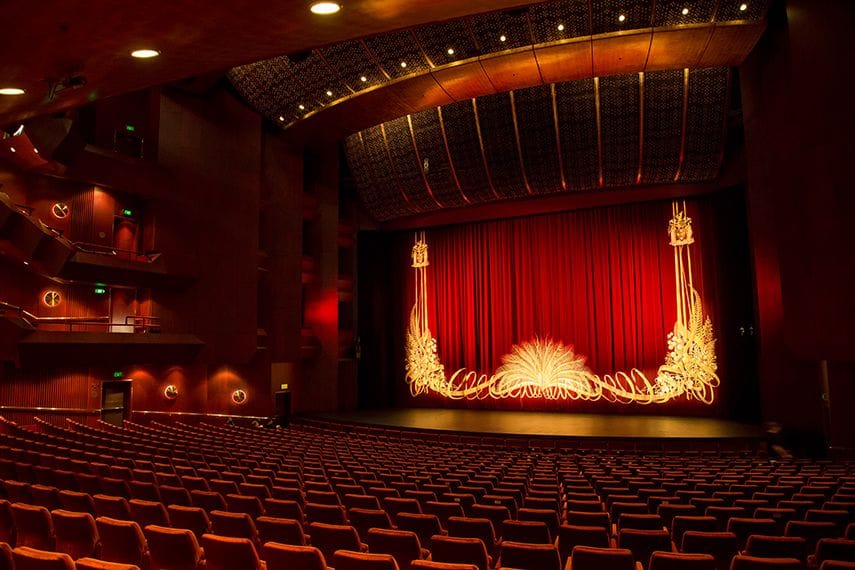 VIRTUAL
TOUR
Take yourself on a virtual tour of Hammer Hall below.