Add to Itinerary
Footscray Town Hall
Architect: Joseph Plottel, 1936
Including Art Deco, Moderne, Celtic, Spanish and Medieval motifs, Footscray Town Hall merges progressive ideas in municipal office building and planning. Upon entering the dominant entrance loggia, ascend the suspended elliptical staircase to the upper level consisting of an exceptionally intact council chamber, reception hall and huge timber honour board.
The interior of the former Footscray Town Hall is a fine example of a civic building designed in the Streamlined Moderne style. Notable internal features include the entrance lobby with mosaic tile floor which is one of the best inter-war examples in Melbourne, bronze balustrades with nickel plated handrails, unusual black marble columns, ornamental plasterwork, Queensland maple panelling, and the Moderne timber screen and clock behind the mayoral chair in the council chamber. Outside, the grounds retain their original landscaping, reputedly laid out by David Matthews, the City of Footscray's Superintendent of Parks & Gardens (1916-64). The coloured concrete paving, brick and iron boundary fence, ornamental lamps, and the formal arrangement of the garden which includes two fantastic examples of Cedrus deodara trees, are features which combine to reinforce the symmetry and cultural integrity of the town hall building and forecourt.
Photos: 1 – Nico Keenan, 2 –3 Courtesy of Maribyrnong City Council
READ
MORE
Download the original opening souvenir catalogue.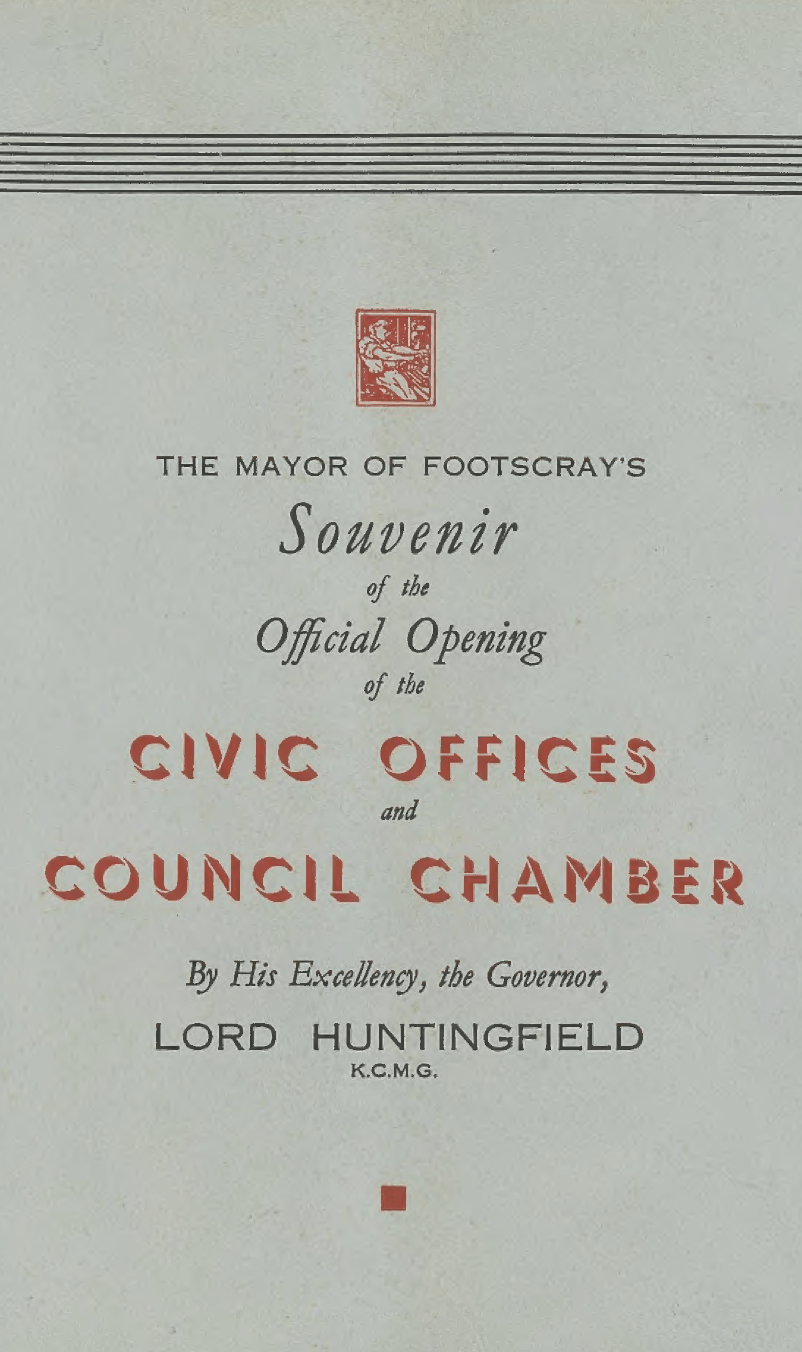 NEARBY…
Ercildoune, Footscray Historical Society
Built in 1876 for the National Bank of Australasia, Ercildoune was Footscray's first custom-built bank. Over the years it has had many incarnations beyond its life as a bank, including a manager's residence, a rooming house and a block of flats. Today, it is the home of owners and custodians, the Footscray Historical Society.
Historically significant, Ercildoune illustrates Footscray's early commercial development, and is the oldest surviving bank building in the area. The society purchased the property in 1970, and have occupied the building and worked to restore it since.
Designed in simple classical style, the two-storey rendered bluestone building is an example of the work of prolific bank architects Terry and Oakden. Highlights include the bank vault, and the original encaustic ceramic tiles of the banking chamber, which remain intact.
Take a photo tour of Ercildoune
READ
MORE
Download the Footscray Historical Newsletter, Sanatoriums – too close for comfort.
WHATS ON
During August immerse yourself in a virtual tour of the magnificent Footscray Town Hall. Bill Horrocks, former Mayor of the City of Maribyrnong (2000, 2002) will (virtually) guide visitors while answering questions live via facebook.
Dates and details to be announced in early August.