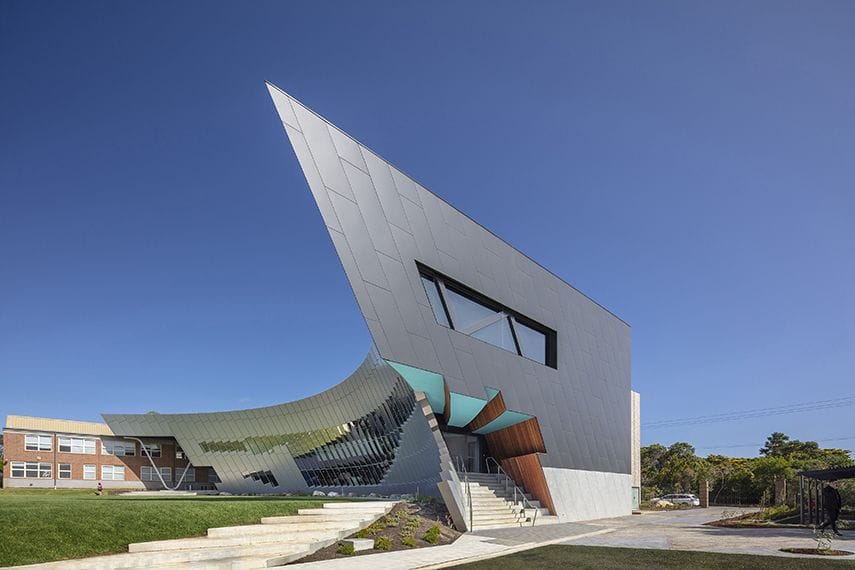 Add to Itinerary
The Swift Science & Technology Centre
Architect: McBride Charles Ryan, 2019
---
The Swift Science and Technology Centre at Toorak College strives to inspire girls about the power of STEM that surrounds us. The building's curved form is generated through pure geometry; a cylinder tilted and trimmed, illustrating the simple patterns behind complex outcomes. The building references the interconnection between science and nature, reinforcing science as a process of uncovering nature, rather than separate to it. The ceiling patterning combines floral and biological patterns, referencing Edna Walling's original garden and the mathematical patterns behind natural formations. Within each lab, traditional student-teacher hierarchies are challenged: student desks are interspersed with teaching tables, creating a fluid learning environment. Colour gently subdivides classrooms between theoretical and practical spaces. Labs are reconnected along a core streetspace, where snaking plywood walls create smaller informal learning spaces. The Centre balances tradition and progression through contrasting facades; the southern façade's modest yet intricate brick patterning respectfully acknowledges the school's existing buildings; while the dynamic northern façade, gently framing and connecting the campus buildings, symbolises progression. This contrast reminds students how STEM is a balance of looking to the past and future, balancing nature and innovation, questioning what we can discover.
Photos: John Gollings
DESIGN
PRESENTATION
RECORDED LIVE: SATURDAY 25 JULY 2020
WHATS ON
LIVE PRESENTATION
Saturday 25th July 2020
2pm – 3pm
FREE, no bookings required
Debbie Ryan and Rob McBride, founders of MCR, will give a live presentation on the design and development of The Swift Science and Technology Centre at Toorak College. Hear more about how the STEM disciplines and the school's history influenced the project's geometry and interior design.
---
MISSED IT?
Catch up and watch below.