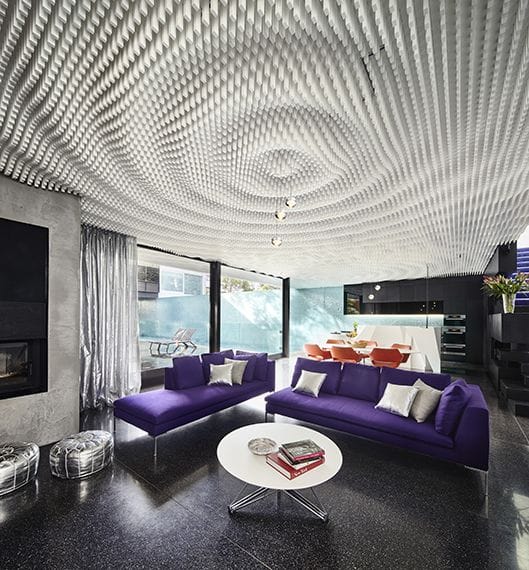 Add to Itinerary
Wynnstay House
Architect: McBride Charles Ryan, 2010
The Wynnstay House was first conceived when the site was co-purchased between two couples with children. This led to the design of two landmark townhouses which could accommodate two growing families with a shared vision and individual aesthetic. An important difference in the planning of each house occurred when one client expressed a desire for a home-office to the front, while the other preferred a studio to the rear. The architecture is imbued with the personality of its occupants; manifest from the building's massing down to the detail of interior elements. Like the unusual facade, the interior is anything but conventional. A wide passage, leading to an open-plan kitchen and living areas, features a breathtaking ceiling. Made from hundreds of MDF blocks of varying lengths, the ceiling is evocative of the ripple effects made by a pebble thrown into a pool of water. The ceiling is animated at night from the reflections of the pool and from concealed lighting, creating a variety of moods depending on the light and time of day. The kitchen bench, made from Corian for its malleable and robust nature, follows the water theme of the interior through its allusion to an iceberg.
Photos: Louis Petruccelli
TOUR
+ Q&A
RECORDED LIVE: SATURDAY 25 JULY 2020
View this post on Instagram
WHATS ON
LIVE Q&A
Saturday 25th July 2020
11am – 12pm
FREE,  no bookings required
Debbie Ryan and Rob McBride, founders of MCR, will give a live tour of their striking and unique Wynnstay house via Instagram Live. The event will be followed with a live Q&A of the project and of MCR's broader work portfolio. Audience members can ask live questions on the Wynnstay House as well as MCR's broader work portfolio.
---
MISSED IT?
Catch up and watch below.