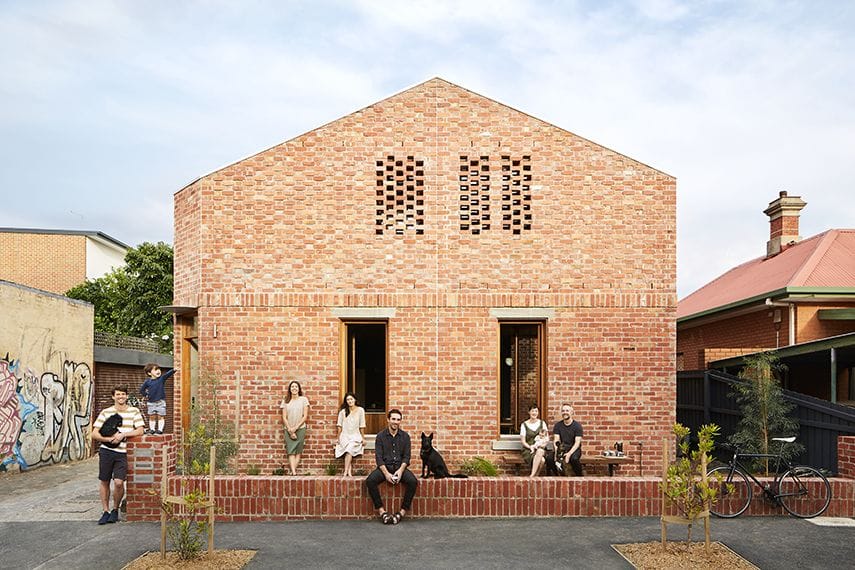 Add to Itinerary
The Davison Collaborative
Architect: Archier, 2020
---
The Davison Collaborative is a three-townhouse project in Brunswick designed in collaboration with Archier and delivered in accordance with the principles of the deliberative development model known as Collaborative Development by HIP V. HYPE. The model allows for collaborators to come together to create better quality, more sustainable and more financially accessible townhouse style homes in inner urban locations where property prices are increasingly forcing people out of the market.
The Davison Collaborative is a case study on sustainable density, transforming one suburban block into three, 150sqm fossil fuel free, 100% electric homes. The project achieves an 8+ out of 10 star energy rating, with solar panels and battery storage ensuring that the project can be operated on 100% renewable energy.
The sawtooth profile of the building along the laneway corner demonstrates that sympathetic architecture can enable responsible density in the inner suburbs, without compromising neighbourhood character. The residential block, cornering a laneway to the south, allows for the expression of detailing that acknowledges the post-war industrial history of the site such as recycled brick work and concrete windowsill lintels.
LISTEN
Hypecast is a podcast by HIP V. HYPE with conversations on the projects, people and ideas that are working to achieve the healthy, sustainable and prosperous future that all Australians deserve.
This episode takes a look at the Collaborative Development Model by HIP V. HYPE and the model's first completed project, The Davison Collaborative. Host Laura Phillips, Head of Urban Advocacy at HIP V. HYPE is joined by Liam Wallis, Director of HIP V. HYPE and Chris Gilbert, Director of architectural practice, Archier to discuss the lessons learnt on collaborative housing development in Melbourne.
Hypecast is produced in collaboration with Climactic, the podcast for the climate community.
The Design Emotive captured life at the Davison Collaborative in Brunswick and a conversation between project partners and residents, Liam Wallis, Founding Director of HIP V. HYPE and Chris Gilbert, Director of Archier in mid June.
WHAT'S ON
LIVE DISCUSSION
The need for a new development model is desperately needed, a model which is sustainable and financially accessible with a focus on townhouses in urban locations. Davison Collaborative is that sustainable development model, with ethical developers Liam Wallis and Katya Crema of HIP V. HYPE.